idiliq | FAQ. Frequently Asked Questions.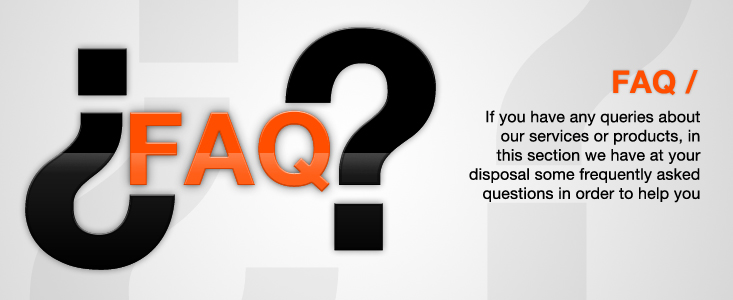 How to buy?
Initially you have to register and create your account, then choose the desired products by adding them to the shopping cart.
Available payment methods
Payment can be made by bank transfer, Visa, PAYPAL and POS credit card. Idiliq offers a secure payment for all payments made through our online platform
What is included in prices of the products published on the web?
Prices include VAT and are per unit of product.
The sale price is recommended by our suppliers.
Cost of shipping and delivery times?
Express Transport:
Orders over £200.00 including VAT, free transportation, term of delivery within 48 hours from the confirmation of the payment (products in stock).

Orders of less than £200.00 including VAT, shipping cost €7.00 inclusive of VAT, delivery within 48 hours from the confirmation of the payment (products in stock).
Special Express Transport:
Consignments for their weight characteristics and/or displacement require special treatment. In these cases the cost of the shipment is € 30.00 including VAT, delivery within 48 hours from the confirmation of the payment (products in stock).

When a delivery is not possible due to the absence of people for the receipt of the product, etc. IDILIQ commits itself to a second delivery at no cost, the third delivery will be made against reimbursement, depending on the type of transport, of 7.00 € including VAT or £30.00 including VAT, in concept of trans-shipment.
Is there a minimum purchase?
Although some suppliers require us to buy a certain amount, usually Idiliq offers customers the opportunity to purchase items by units, for this we have appropriate boxes for delivery. However there are some products that may not be purchased by units.
Can I return an item?
Yes, it is possible the refund within 7 working days of delivery.

Read general conditions section 4 after-sales service, please, click here
Can I buy from the Canary Islands?
By the time the radius of action confined to the peninsula.
How often do you update the site?
To help you discover more articles, the site will be renewed regularly, you will find our favorite top 10 best sellers, news, etc..
Can I see the full catalog?
In the web there is a link located on the home page, which will take you directly to a PDF of our catalog of products.
Are genuine the products offered on the web? Where are manufactured it?
All our products are original pieces of renowned brands we work with. The products are mainly manufactured in Europe.
Is Idiliq committed to the environment?
Our company is committed to sustainable development. We believe that economic progress and respect for the environment are compatible. Therefore our products are made respecting the environment and legislation, but many of our products are characterized by highly recyclable and environmentally friendly materials and because they come mostly from Europe, the environmental impacts of transport is lower.