idiliq | Commitment to total quality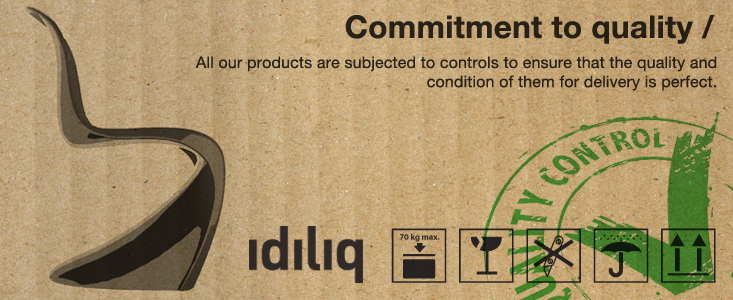 In Idiliq we carry out continuous controls of quality on all our products, to ensure that products reach our customers in perfect condition. To do so perform the following controls:

Upon arrival at our warehouse, we verify that all products are perfectly packaged from the factory. If you notice any damage the package is photographed and later check the status of the furniture. If the Cabinet is correct, is it packed again and stored for sale. If you have some kind of damage, scratch, blow, etc... efforts are performed with the manufacturer so they replace the product on the other in perfect condition.

Once the product is purchased by a customer, is again verified the status of the product to his departure from our warehouse. This new review is carried out in order to verify that the product has not suffered damage during your stay in our stores and you will reach our customers in perfect condition.

In the hypothetical case that detect damage in this output control, Idiliq reserves the right to change the dates of delivery of an order. If units of a product purchased in an order have damage and we do not have extra units to complete the order, these must be ordered to the supplier, with the consequent delay in delivery. In this case, informed the customer of what has happened, allowing this to agree to new deadlines or cancel your order and get their money back.

This is the commitment to total quality of idiliq. Ensure that the pieces in our catalog, of the highest quality, leading brands and designers of the world, reach our customers in perfect condition.